Gather a scrapbook of notes, photos, and articles that you have collected.
Get together with your family and ask them for their input and wish lists.
Come up with a budget you can live with.
Draw a rough sketch of your floor plan and take measurements (or, if building, get floor plan from architect or builder).
If you would like, print and fill out, the Kitchen Planning Guide.
Call us to make an appointment, or stop into our showroom.
The first time you stop into our showroom we will . . .
Answer any questions you may have.
Review and/or assist you in establishing a budget.
Discuss your scrapbook of ideas (if you have one).
Discuss your floor plan (if you have one) and go over some design ideas.
Discuss your plans for utilizing the room you will be remodeling.
We will come to your home and take measurements. This service is free of charge.
We will create a design, and draft perspectives, elevations, and a floor plan, although all designs remain Penterman Kitchen's property until a deposit has been placed.
We will provide you with a price.
We will set up a meeting for you to discuss the design and pricing and discuss any potential modifications you would like to make.
If necessary, we will make arrangements with your builder, architect, and/or designer to coordinate the installation.
If necessary, we will remove your existing cabinetry and countertops. We do not remove appliances.
To ensure a quality installation, we will meet the installer at your home to discuss the details of your plan and installation.
Cover doorways into other rooms with plastic.
Pack everything that won't be needed into boxes. This will keep things dust-free.
Keep essential items handy: basic food that can be microwaved, condiments, cereal, microwave-safe dishes and utensils, dishcloths, dishwasher soap, paper plates and cups, coffee, coffee pot and sugar/creamer, paper towels, napkins, and garbage bags.
You will be without water in the kitchen for a short time. You may need to do dishes in another sink or the bathtub for awhile.
Many contractors will wait until cabinets have arrived before tearing out your current cabinets. Be sure to clarify this point with your contractor.
Set up the microwave and refrigerator in another area, along with a table for preparation.
Stockpile restaurant coupons for the nights when you really want to eat out.
Relax and rely on your kitchen designer. There will be a beautiful kitchen when all the dust is gone!
Measuring For Your New Kitchen
Below is a step-by-step guide for drawing and measuring your kitchen. Each step is color coded and matches the corresponding color in the sample drawing below.
Notes:
If you are remodeling, do not include current cabinetry or other furniture that will not be kept, such as kitchen tables, in your measurements.
All of your measurements should be in inches. For example, if you measure a wall that is 10 feet, write it as 120″ (a quotation mark (") denotes inches).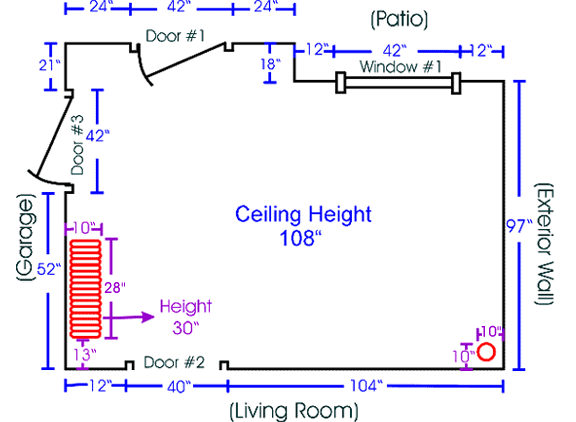 Get in touch with us
Ready to get started on your next kitchen project?